Community Involvement
The Jimmie Hale Mission would not be able to serve those in need without the support of the community. We are grateful for individuals, families and other groups that care about homeless, hungry and hurting men, women and children.
Learn more about how your group can help.
Foundations
Churches and Ministries
Businesses and Corporations
Professional and Civic Groups
Schools
Online Communities
Foundations
Foundations have deemed the work of the Jimmie Hale Mission worthy of their support for many years. We would like to be considered by your foundation for its support this year.
Churches and Ministries
Churches and Ministries often become involved by serving or providing meals, by leading a men's chapel service or women's or children's Bible study, and by including the Jimmie Hale Mission in their annual missions budget.
If you would like to invite us to be a guest speaker, to give a presentation, or to set-up a display at your upcoming meeting or special event, please contact us at (205) 323-5878.
Most importantly, please pray for the Mission as God works in the lives of those who come our way everyday.
Businesses and Corporations
Businesses and Corporations seem to really like our new lunch-hour volunteer opportunity called Lunch is Served, a team-building experience for your office staff to serve lunch at our Shepura Men's Center in Birmingham.
If you can't come to us, we can come to you. Please check out our Tours and Presentations page.
Also, we appreciate companies which include us in their annual giving and provide Matching Gift Programs for their employees. To learn more about ways to give, click here.
Businesses and corporations have a unique opportunity to help the homeless. When you employ a Mission graduate, you are not only getting men and women back to work, you are helping them get back to a normal life. If you have an employment opportunity or any questions, please give us a call, (205) 323-5878.
Professional and Civic Groups
Members enjoy supporting the work of the mission by volunteering at our shelters. Many volunteer opportunities are available depending on the purpose of your group.
May we host your next meeting? Our new campus includes a meeting room, which can accommodate up to 50 guests. We love for people to step foot on our campus and see what God is doing at the Mission. If you are interested, please contact Bonnie Hendrix at (205) 323-5878.
Professional and civic groups frequently invite Executive Director Tony Cooper to speak at monthly and quarterly meetings or to provide displays at special events. If you are interested, please contact us at (205) 323-5878.
Schools
Schools with students of all ages can become actively invovled in community altruism through the Mission. Each of the age groups like to conduct a drive for food, paper products, warm clothes, toiletries, and even laundry detergent.

ELEMENTARY, PRIMARY AND INTERMEDIATE SCHOOLS as well as HOMESCHOOLERS annually participate by coloring holiday placemats for our shelters' guests. During the holidays, you can download the holiday placemat (at the bottom of this page), make as many copies as you like, color the plate with food, then send them to our mailing address. Each one will bring a smile to the face of those we serve during the holidays.
MIDDLE AND JUNIOR HIGH SCHOOL STUDENTS sometimes have donation contests among grades or classes, where individual students donate a $1.95 to feed a hungry man, woman or child... then the school presents a collective donation to the Mission. Every little bit adds up to help those in need!

Helena Middle School's Student Council Group helped feed over 50 hungry men, women and children
HIGH SCHOOL STUDENTS AND CLUBS support the work of the Jimmie Hale Mission in seveal ways over the years. Local homelessness is a serious issue and a worthy cause. We need all the help we can get. On-campus and off-campus student organizations have started initiatives and even movements in their schools, churches and communities to assist the work of the Mission, and for that we are grateful. Follow us on Facebook, MySpace, YouTube, and Twitter

Thompson High School's FCCLA and DECA groups helped feed over 220 men, women and children
COLLEGE AND UNIVERSITY STUDENTS, SORORITIES, FRATERNITIES and other groups volunteer and connect online with the Jimmie Hale Mission. We know very well that YOU are our future donors and board members. We couldn't do it without you! Please let us know how you and your group would like to become more involved to help people in need.



Seniors from Montevallo's baseball team help out
by serving supper to the men at the Shepura Men's Center
Online Communities
You can get involved with the Mission from the comfort of your computer or mobile phone. Stay connected online at Facebook, Twitter, YouTube, LinkedIn, Pinterest, or our Mission Blog.
Also, you will be inspired by our Email Newsletters, which you may sign up for at the top or bottom of this page.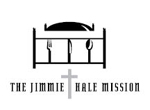 Please share this with your friends and family on...