Volunteer Opportunities
Click to fill out our Volunteer Interest Form!
Several opportunities are available for you or your group to volunteer at the Jimmie Hale Mission ministries.
Serve or Provide Meals
Conduct a Drive
Teach the Gospel to Students
Take Part in Placemat Project
Lead a Men's Chapel Service
Lead a Women's or Children's Bible Study
Provide Childcare
Tutor a Child
Why Do YOU Volunteer?
Serve or Provide Meals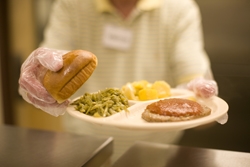 At our Shepura Men's Center (Birmingham) and Royal Pines Center (Blount County), volunteers can serve breakfast, lunch and dinner to the men off the street and to those in our recovery programs. Churches and ministries often serve our evening meals. We prepare the food, and you provide a helping hand and a smile.
Lunch is Served is a great team-building opportunity that provides a chance to make a big difference in a small amount of time. Use your lunch hour to serve the homeless and hurting men of the Jimmie Hale Mission. This has become popular with volunteers from businesses, corporations, and professional and civic groups. To see when we need volunteers most, click here to view our calendar.
Nourish the Needy is a program of Jessie's Place where volunteers will prepare or purchase food for homeless women and children. You along with your children or friends can select a date to bring prepared food to feed 30-40 moms and children on-site at Jessie's Place. A meals calendar is maintained, so you can opt to bring a meal as often as you like including, monthly, quarterly, or one-time. Click here to view the volunteer opportunities at Jessie's Place.
For more information about serving meals, please contact Terry Preston at (205) 323-5878.
"Our experience serving lunch was amazing! We will definitely do it again." - Stephen Powell, Volunteer
Conduct a Drive
Drives are excellent to help us meet needs in easy and pratical ways. Take a look at the lists below and think about how much of those items you or your family goes through in a month. Now imagine having to provide the basics for more than 200 people on a daily basis.
Food Drive - canned vegetables, canned fruit, canned soups, instant potatoes, boxed cereal, rice
Paper Product Drive - paper towels, paper napkins, toilet paper
Toiletries Drive - toothbrush, toothpaste, disposable razors, shaving cream, stick deodorant
Warm Clothing Drive - gloves, socks, coats, hats/beanies
Laundry Detergent Drive - any kind will do
(PLEASE SEE THE PRINTABLE LISTS IN THE "DOWNLOADABLE FILES" SECTION AT THE VERY BOTTOM OF THIS PAGE.)
Schools, offices, churches and other such groups enjoy conducting drives to provide team-building and promote corporate altruism. Each individual's item, when grouped with a team effort, can add up to a lot.
For more information about donation drives, please contact Terry Preston at (205) 323-5878.
Teach the Gospel in Schools
Discovery Clubs are Bible clubs that meet in public elementary schools after hours. It only takes a willing heart and an hour a week to be a Discovery Clubs volunteer. Led by a group of four volunteers, elementary-age children learn Bible verses, sing songs, and hear a Bible story during this one-hour, after-school program.
Click here to visit our Discovery Clubs page and learn more about this exciting program and how you can help.
Lead a Men's Chapel Service
If you are interested in leading a chapel service at our Shepura Men's Center, you may contact Chaplain Chris Tortorice at (205) 324-2271.
Church groups in North Jefferson, Cullman and Blount Counties lead chapel services at Royal Pines Center from time to time. If you would like to do so, please contact Director Ron North at (256) 352-9444.
Lead a Women's or Children's Bible Study
Because of the sensitive nature of children, prospect volunteers of Jessie's Place must attend an orientation.
Please indicate your interest in the form above, and we will send you a Jessie's Place volunteer application.
For additional information, you may contact Jessie's Place at (205) 323-0170.
Provide Childcare
Childcare is need from 5:00 p.m. to 8:00 p.m. most evenings and during the day on school holidays.
Tutor a Child
A Ph.D. is not required to tutor a child at Jessie's Place. Most of the time, volunteers simply read along with children in our library. If other subjects are needed to be covered, we will only place you in a learning situation within your comfort level.
Why Do You Volunteer?
If you or your group has volunteered recently (or even several years ago) with the Mission's ministries in any other way, please share your experience with us. We would like to hear your story.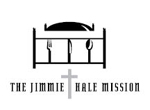 Please share this with your family and friends on...